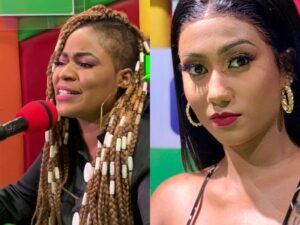 Socialite, Hajia4Real has been in the news these past days for rather bad reasons purporting from money laundering cases to fraud related ones as alleged. It was also claimed that she was to face a 10 year jail term if found guilty.
Shatana, a music songstress who is well known for her conscious compositions has been on roasting boards for her heavy advices that frowns on living easy life by using dubious and illegal means, which was fast becoming the order of the day. She has single handedly been on this mission for quite a long time now. In some of these interviews, she was insulted by her fellow musicians and celebrities who in one way or the other are into such lives.
Shatana advises women to take the route of hard work and dedication instead of relying on men as a means of achieving success.
According to the talented musician, the most valuable commodity in life is wisdom, gained through learning, perseverance, and dedication. Dedication, hard work and an unrelenting attitude to learning will help women achieve the best for themselves in their professional pursuits.
Through hard work, women gain self-confidence and stand higher than those who are content with relying on the superficial, external source of Slayqueenism.
The merits of hard work should not be underestimated when it comes to finding success in life. By dedicating oneself to hard work, women can continually move forward and grow into their own potential.
Relying solely on Slayqueenism does not offer any long-term security as a means to get ahead in life and can leave women vulnerable to various risks, including physical harm as well as emotional and psychological stress. Hard work brings numerous rewards, including recognition and respect by peers, progressive growth, and financial stability. Through hard work, women can become empowered and create a life that offers stability, safety, and self-sufficiency.
The outspoken musician charged Ghanaian celebrities to desists from living lives that will give the pressure to youth.
Shatana further adviced the youth to work hard with their hands and not to engage in prostitution and fraudulent Acts in their quest to be rich overnight.
For anyone who desires success, Shatana advises against relying on the seductive path of Slayqueenism. Instead, hard work and dedication are the best strategies for success.
Through hard work, one can gain the confidence, experience, and qualities that will set them up for success in the long run.
Hard work, determination, and dedication are the keys to achieving your goals and that anything less than that is a dead end. So arrange yourself and choose wisely, hard work is the only way to success.
Watch Video Below.
Source: Christopher Agbodo Ranson /Virgin Blogger